At the Warren County YMCA, we believe that staying fit is essential for maintaining a healthy and happy lifestyle. To that end, we are proud to provide our members with free access to our group fitness classes.
Our land-based group workout sessions are perfect for getting fit and making friends. For your convenience, all the classes we offer are co-ed and created for multiple fitness levels. Relax, get in shape, and have fun while performing a wide array of cardio and weight-training activities. Our goal is to get you motivated while providing the beats to keep your heart rate in the zone.
Group Fitness
MORNING GROUP FITNESS
Pickleball
Y-Walk
Group Cycle
Stretch & Tone
Low Impact Aerobics
Y-Pump
Yoga
Cardio Kickboxing
Pilates
Barre Above*
Chair Based Fitness
Fit Fusion
View Schedule
EVENING GROUP FITNESS
Strength & Conditioning
Group Cycle
Zumba (Mezzanine) H.I.I.T
Pound® (Mezzanine)
Cardio & Strength
Tap Dance
Ballroom Dance (6-Weeks)
View Schedule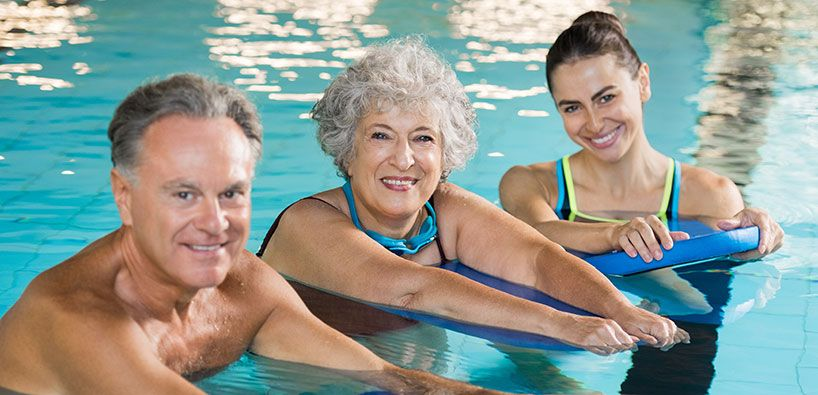 ADULT AQUATIC CLASSES
Aqua Zumba*
Deep Water Exercise
Aqua Fit
Arthritic Aquatics
Aqua Aerobics
View Schedule
ROSEVILLE GROUP FITNESS CLASSES
Coming Fall 2019

YOUTH FITNESS
Information Coming Soon​
GYM SCHEDULE
Open Gym
Y-Walk
Pickleball
Adult Basketball
View Schedule
POOL SCHEDULE
Summer I Session: June 24-July 13, 2019
Lap Swim
Lap Swim/Exercise
Deep Water Exercise
Aqua Fit​
​H20 Bootcamp
Arthritic Aquatics
Parent/Tot
View Schedule
ROCK STEADY BOXING AT THE WARREN COUNTY YMCA
We are learning every day that there are ways in which people with Parkinson's disease can enhance their daily quality of life and even build impressive power, strength, flexibility and speed! By exercising with coaches who know the ropes, you can fight your way out of the corner and start to feel and function better. Boxing works by moving your body in all planes of motion while continuously changing the routine as you progress through the workout. These classes have proven that anyone, at any level of Parkinson's, can actually lessen their symptoms and lead a healthier/happier life. Call us today!
For additional information about our Rock Steady Boxing Program click HERE!

---
Health & Wellness
Because we know that healthy lifestyles are achieved through nurturing mind, body and spirit, well-being and fitness at the Y are so much more than just working out. Beyond fitness facilities, we provide educational programs to promote healthier decisions and offer a variety of programs that support physical, intellectual and spiritual strength.
At the Y, a supportive community is a big part of wellness. At every age and every level of activity, you'll find people just like you looking to live a little bit healthier. Members and program participants often cite the support and enthusiasm of fellow participants and staff as some of the key factors in their achievement of greater well-being.
Individuals interested in personal attention and extra motivation during each workout should consider working one-on-one with one of our professional Fitness Trainers. They will help you develop a workout that is geared towards your specific goals. Sessions can be scheduled at times convenient for the member. Please contact Kate Schmalshof to set up your workout today!
$30 per hour
$75 for 3 1-hour sessions
$150 for 6 1-hour sessions
New to exercise and want to learn more about nutrition? Exercise and Nutrition 101 is a 4 week program personalized just for you to help reach your fitness goals and make healthier food choices. One of our fitness coaches will meet with you once a week for 1 hour and discuss your needs and help you to get moving in the right direction.
4-week program
1 hour per week
$75
Are you a new member or new to the Wellness Center? This free orientation program gives you an in-depth training on the Wellness Center equipment. It is designed to give you the confidence you need to become a regular exerciser. Upon completion of the program, you will be more knowledgeable and comfortable with the equipment. Please sign up at our Member Services Desk. Orientations are scheduled individually and take about one hour to complete. Teens (16 – up) & adults are able to use these facilities without an orientation.
Members 13-15 are required to go through a Nautilus Orientation to use the Nautilus and Cardio equipment. A parent / legal guardian must register the teen for the orientation at the front desk. 13-15 year olds are not able to use the Free Weight room. There is a non-refundable $10 charge for the youth orientation.
Bioelectrical impedance analysis (BIA) is a safe, accurate and noninvasive body composition technique. Testing results can give you an accurate picture of your body composition and help you target your training to maximize results! Testing and consultation takes less than 15 minutes and will provide you with the following information:
Body Composition – Muscle, Fat, Total Body Water
Percentage Body Fat and BMI – Body Mass Index
Segmental Lean Muscle Distribution – Right/left legs, arms and trunk
Basal Metabolic Rate – Calories burned in a day at complete rest
Re-testing is recommended every 3-4 months as you work toward accomplishing your long term goals! Tests can be scheduled at the YMCA Welcome Center.
Here's an Example of how this unique body measurement tool can help shape your workout program. If possible, please follow these guidelines below prior to your test:
Absolutely no defibrillator, pacemaker or artificial heart functions on this machine!
Avoid exercising at least 2 hours prior to this test
Avoid eating at least 2 hours before the test
Avoid excessive consumption of fluids prior to test
Measurement should ideally be done before mid-day
Wear light clothing
You will be asked to remove socks and all items from pockets
No cell phones while on machine, no prosthetic limbs or metal rods
Member Fee $5. Non-member fee $10.